2008 Recipients
2008 Distinguished Alumni Award Recipients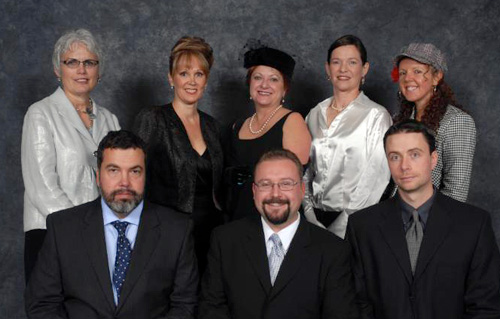 Sharon Simpson RN | TRU Nursing Faculty, 1983-2008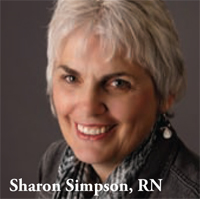 TRU Distinguished Alumni: Honourary Distinguished Alumni Award
Sharon Simpson is one of the pillars of TRU, a model professor and community leader. Without her dedication to teaching, the Nursing Program at TRU world not be as enriching and enjoyable as it is.
Sharon pioneered the development and implementation of the first nursing program at Cariboo College (now Thompson Rivers University). Since then she has been an active participant and leader in curriculum revisions and program transitions that spans 35 years in nursing education including a post-RN BSN program, a generic BSN program, and now coordinating the implementation of a Master's program. In the classroom, she effectively and appropriately integrates real life experience to ensure the educational experience is interesting and meaningful for her students. She has demonstrated effective design and development of educational materials to enhance the learners' experience. She is a friendly leader that naturally attracts individuals to follow her.
On the global stage, Sharon was actively involved in the development and implementation of two international education projects in Asia and Africa. Closer to home, Sharon has volunteered with several organizations, including the Kamloops Hospice Associations and the Aids Society of Kamloops.
Jo Berry | Bachelor of Social Work, 2000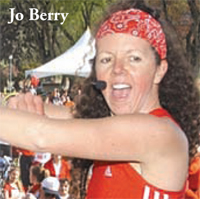 TRU Distinguished Alumni: Grace Chronister Award
"Movement is Change." This is the slogan of Jo Berry's RunClub and since completing her Bachelor of Social Work in 2000, Jo has never stopped moving.
In 1999, Jo Berry started RunClub which is about more than just exercise; it incorporates the ideas of feminism, play and movement. Runclub took the pain and competition out of running and replaced them with fun, cooperation, and working together for personal growth and self actualization. By fostering a "no one gets left behind" attitude, runners can enjoy a relaxing and joyful experience every time they run. Jo teaches members how to balance their personal, professional, and family life while making new friends and getting fit. Needless to say, the club has been joined by people who never did sports in their lives but have now found a perfect fit with RunClub.
Also the co-founder of the Daily News Boogie the Bridge, Jo is an inspiration to everyone she meets and an outstanding individual. Her enthusiasm and compassion have helped countless people change their lives for the better. She is not only concerned with people's physical well-being, but also their emotional and spiritual wellness. Jo has been the recipient of the Woman of Distinction for Community Contribution award in 2004 and the BC Community Achievement Award in 2008. She is a credit not only to TRU, but to the city of Kamloops and BC.
Dr. Katherine Sutherland | TRU Department of English and Modern Languages, 1981- Present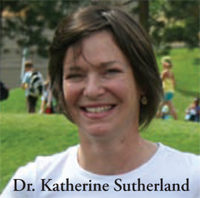 TRU Distinguished Alumni Award
Since joining the faculty at TRU's Department of English and Modern Languages over a decade ago, Dr. Katherine Sutherland has been an inspiration to her students and colleagues.
Her fervour for English and teaching has made her a perennial favourite among students. Just reading the comments from students says it all:
"Kate is the best prof I've had at UCC – she makes me want to work hard, to please her. She also makes my mind ache at least once a class. I love it!"
"My favourite English class ever."
"Her knowledge of English is unreal! Her enthusiasm is addictive and is the reason I have to come to every class. She is approachable, supportive and helpful."
She has further enhanced the learning environment for her students by taking on administrative services including; chairing her Department, accepting the duties of Vice-Chair of University Council and has also been influential in developing new curriculum, such as a new Bachelor of Applied and Interdisciplinary Studies.
Craig Jones | Open Learning Bachelor of General Studies, 1995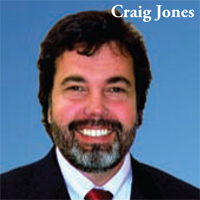 TRU Distinguished Alumni: Open Learning Award
Attaining a Masters of Law from Harvard University is a great accomplishment which for Craig Jones, grew from a general beginning. In 1995, Jones graduated from Thompson Rivers University (formerly the British Columbia Open University) with a Bachelor of General Studies degree. "It's (his TRU-OL degree) the foundation of everything I've done since," he said. Everything Jones has done since graduating from TRU-OL is no small feat. Working full-time throughout his Open Learning studies, Jones gathered the necessary credits to gain admission into law school at the University of British Columbia, his stepping stone to a Masters in law at Harvard. Currently, Jones is the Supervising Counsel of the Constitutional and Administrative Law Group of the Ministry of the Attorney General in Victoria. "I supervise 20 lawyers who conduct litigation at all levels of court, and we get to be involved in some of the most interesting issues of the day," Jones said. In addition to authoring two books and numerous articles, Jones has been involved in litigations surrounding powers of the government and the application of the Charter of Rights. Craig Jones is the 2008 recipient of TRU's Distinguished Open Learning Alumni award, which recognizes his professional achievement as well as public service through the practice of law and his recognition of the Charter of Rights.
Dr Nikita Vizniak | BSC Animal Biology, 1998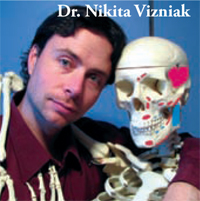 TRU Distinguished Alumni: Young Alumni Award
Since graduating from TRU in 1998 with a B.Sc. in Animal Biology, Dr. Nikita Vizniak has become not only an excellent physician but also a world renowned author.
After completing a Doctor of Chiropractic Degree with honours (Cum Laude) from Western States Chiropractic College in Portland OR in 2001, Dr. Vizniak went on to write Clinical Chiropractic Handbook, published in 2003. This handbook was his first success and his subsequent books; Muscle Manual, Physical Assessment and Conditions Manual have all been best sellers in the field, selling over 20,000 copies in 11 different countries. They are not only required texts for classes, but have been on demand from clinics and other professionals as valuable reference guides. He began his own publishing and educational company, Professional Health Systems Inc., www.prohealthsys.com to further aid students and colleagues across the globe. True to his company motto "Dedicated to Clinical Excellence", the site offers easy access to valuable clinical information for students, doctors and therapists.
Dr. Vizniak has also worked as a standardized patient trainer, national board exam clinical scenario developer and proctor. Currently he is also a part-time instructor for the West Coast College of Massage Therapy and the Boucher Naturopathic Institute of Medicine, both in New Westminster BC.