2004 Recipients
2004 Distinguished Alumni Award Recipients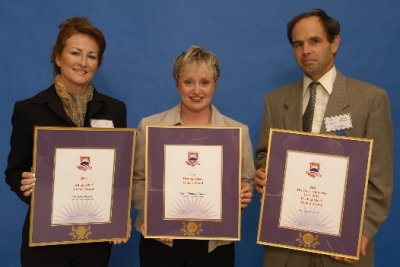 From left: Kris Stewart, Karla Mundle-Guido, Hamish Plommer.
Missing: Ying Kong
The Distinguished Alumni Award for Professional Achievement
Kris Stewart, RN Diploma '88
The Distinguished Alumni Award for Teaching Excellence
Ying Kong, Professor, Economics Department
The Distinguished Alumni Award for Service to the Community
Karla Mundle-Guido, Event & Convention Management Diploma '99.
Grace Chronister UCC BSW Distinguished Alumni Award
Hamish Plommer, BSW '01
Karla Mundle-Guido | Events & Conventions Diploma, 1999
TRU (UCC) Distinguished Alumni:Community Service Award
Mrs. Karla Mundle-Guido (pictured with presenter Dave Twynam) was presented the 2004 Distinguished Alumni Award for Service to the Community. This award is given to a graduate who demonstrates significant services and/or contributions to the welfare and advancement of local, national or international communities.

Karla is very involved in the Kamloops community through her job and volunteer work. Karla is described as a person with a caring attitude, a person who puts her heart and soul into everything she does. After graduating from the Events & Conventions Management Diploma in 1999, she worked for the Kamloops City RCMP Detachment in a variety of roles that have lead to her current position as Community Policing Coordinator. Part of her work on the North Shore is with the Kamloops Community Action team. The team looks at ways to address a number of important issues on the North Shore including public safety issues, sex trade issues and vandalism.

For many years, Karla was a Life Guard and Red Cross swimming instructor for the City of Kamloops Recreation Department. She delivered the Red Cross Child Abuse Education program to students in junior and senior high schools, as well as provided water & safety programs and information to the community.

Karla is an excellent role model for youth. She has developed recreation leadership workshops that train youth to become effective program leaders. Karla and her husband Deno, volunteer their time at drop in programs for youth on the North Shore, holding teen nights called TGIF.

Karla has raised funds for many non-profits in the community including the Annual Golf Tournament fundraiser for the Kamloops Community Crime Prevention Society, the Mountie Stomp, a fundraiser for the Bruce Denniston Bone Marrow Society, the Red Cross Child Abuse Education program, the Josh Guido and Mike Young Memorial Bursary and the Heart & Stroke Foundation
Hamish Plommer | Bachelor of Social Work
TRU (UCC) Distinguished Alumni: Grace Chronister Award
Mr. Hamish Plommer (pictured with presenter Jeannette Robertson) was presented the 2004 Grace Chronister UCC BSW Distinguished Alumni Award. This award recognizes outstanding achievements of a UCC Bachelor of Social Work graduate whose endeavours in the community have brought honour to the UCC School of Social Work and Human Services and the profession of social work.

Hamish graduated from UCC in 2001 with a Bachelor of Social Work. Hamish completed UCC's Community Mental Health Certificate in 2002 and has completed most of the requirements for the Registered Horticulture Therapist certification.

After graduation, Hamish began work for THEO BC (BC Society of Training for Health and Employment Opportunities); a non-profit organization dedicated to offering a selection of exemplary employment-related programs. Gardengate, is an innovative horticulture project developed initially by THEO BC and Kamloops Food Policy Council. Hamish was responsible for the development of the overall program at Gardengate. This project provides social and educational opportunities for persons with mental disabilities while encouraging healthy living through food production. Hamish teaches horticultural skills, coordinates staff, volunteers and program participants and coordinates the distribution of approximately 8,000 pounds of produce annually to agencies such as the Kamloops Food Bank.

Hamish's community involvement is extensive. In the past he has been a director and volunteer with the Kamloops Film Society, a director and vice-president of the Kamloops Farmers' Market Society, an outreach volunteer for the John Howard Society, the New Life Mission and a member of the Kamloops Multicultural Mental Health Advisory Committee. Currently, Hamish is a member of the BC Chapter of the Canadian Hard of Hearing Association, the Kamloops Food Policy Council, and the BC Chapter of the Canadian Horticulture/Interior Health Authority Healthy Living Network.

Hamish exemplifies and demonstrates on a daily basis the values of equality, compassion, life-long learning, social justice and humanitarianism upon which the profession of social work is based.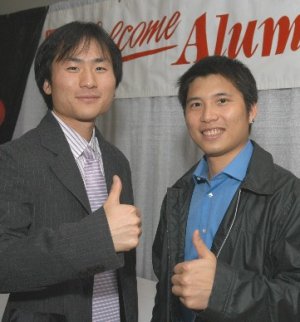 Dr. Ying Kong | Faculty of Business: Economics & Statistics
TRU (UCC) Distinguished Alumni: Community Service Award
Dr. Ying Kong (pictured are his students nominators) was presented the UCC Alumni Association 2004 Distinguished Alumni Award for Teaching Excellence. This award recognizes either a current or retired instructor who has demonstrated exceptional student teacher involvement and demonstrates qualities of leadership, knowledge, inspiration, enthusiasm and excellence in their field of teaching.

Over twenty students from Dr. Kong's Economics and Statistics class submitted his nomination for Teaching Excellence Award. They indicated that Dr. Kong's teaching methods made the topics of Economics and Statistics easy to understand and learn.

Dr. Ying Kong is currently on leave from his position as an Associate Professor of Economics at UCC, a position held since 1999. Dr. Kong has a PhD in Economics and a Masters in Public Administration from Carleton University. He has a Bachelor Degree in Science from Peking University in China. Prior to teaching at UCC, Dr. Kong worked as a visiting professor at both the University of Victoria and Carlton University.

Dr. Kong has worked extensively on Economic and Statistical analysis for the Ontario Property Assessment Corporation, for the Patented Medicine Price Review Board with Health Canada, and with the Division of Investment and Capital Stock for Statistics Canada. In Beijing, China, Dr. Kong was the Senior Economics Analyst for the State Science and Technology Commission. He is a member of the Canadian Economic Association and the Industrial Organization Society. Dr. Kong has published in many industry related journals.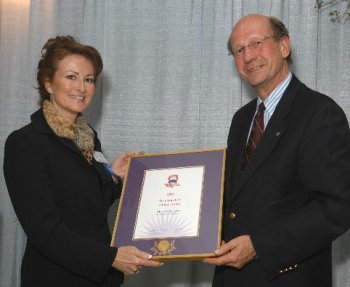 Kris Stewart | Nursing Diploma, 1988
TRU (UCC) Distinguished Alumni: Professional Achievement Award

Ms. Kris Stewart (pictured with presenter Roger Barnsley) was presented the UCC Alumni Association's 2004 Distinguished Alumni Award for Professional Achievement. This award recognizes a graduate who has made significant achievements in the graduate's field of professional or career endeavours.

Kris graduated from UCC in 1988 from the Nursing Diploma Program. Kris moved to North Carolina and lived there for 8 years working as an RN in all Acute Care areas. She opened state certified Home Health Agency and became a Occupational Health Nurse after completing a Bachelor of Science in Nursing in 1994. Shortly after, Kris moved back to Canada and took a position in an Arctic First Nations Community as a defacto nurse practioner for 2 years, which included being a medical officer on a Canadian Coast Guard ship in the Eastern Arctic for 3 months. In 1997, Kris moved to Kelowna and became a corporate health nurse for Telus.

In July 2002, Kris saw a need in her community and ventured out on her own. In a field dominated by male doctors, she found the investment capital and established a private MRI clinic in Kelowna called Image One. Kris is responsible for the administration, public relations, marketing, clinical governance, business development and nursing duties. Kris has made a significant advancement professionally by blending her profession in nursing with the field of business.