2003 Recipients
2003 Distinguished Alumni Award Recipients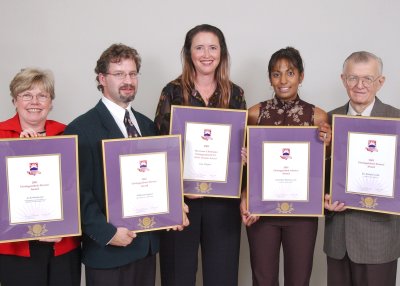 from left: Jo Rothenburger, Bill Frymire, Lisa Allgaier, Sukh Heer, Roland Cobb

In 2003, the UCC Alumni Association honoured 4 graduates of the university and one retired instructor with the Distinguished Alumni Awards. The recipients were presented their awards at the President's Reception on October 17th before a crowd of fellow alumni, faculty, family and friends. Honoured were Sukh Heer Matonovich, Bill Frymire, Jo Rothenburger, Lisa Allgaier, and Dr. Roland Cobb. These five individuals were added to the growing list of UCC's finest.
Sukh Heer Matonovich | Bachelor of Social Work Degree, 1999
TRU (UCC) Distinguished Alumni: Athletic Achievement Award

Sukh Heer Matonovich, a graduate in 1999 with a Bachelor of Social Work Degree, received the UCC Distinguished Alumni Award for Athletic Achievement for her accomplishments as an athlete, a coach and a sports administrator. Nominated by alumna Carolynn Boomer, her colleague at Pacific Sport Regional Centre, Sukh works to provide incentives for athletes to remain in Kamloops for their education and training, as well to provide education and certification to coaches.

Sukh was an honour roll student at Norkam High School and attended UCC with a basketball scholarship. Overcoming many cultural obstacles to participate in sports, Sukh excelled in basketball. Not only was she a star player on the basketball team, Sukh had many roles on the team including captain, assistant coach and head coach. She contributed to the development of the UCC Sun Demons Sports Camps, was a student member of UCC's Board of Governors and was president of UCC Sports Council. Upon receiving her award from UCC's president Dr Roger Barnsley, Sukh was delighted, stating, "I am flattered, honoured and shocked to receive the award. UCC Athletics provided me with the most growth in the four years I played basketball. My years there helped me be the person I am today; it challenged my values and made me grow personally and professionally. The friends I made while I was at UCC are life-long friends - UCC is a place I will always call home."
Bill Frymire, Digital Arts and Design Diploma, 1985
TRU (UCC) Distinguished Alumni: Professional Achievement Award
Bill Frymire, a graduate of the Digital Arts and Design Diploma in 1985, was the recipient of the Distinguished Alumni Award for Professional Achievement. Nominated by his proud mother, Marguerite Frymire, Bill was honoured for his outstanding accomplishments in his field of computer graphic design.

As one of the first graduates from the Digital Arts and Design program, Bill was quickly employed as a graphic designer with one of Vancouver's largest design firms. His work was often used in computer graphics publications as examples of then leading-edge technology. His next endeavour was as art director for Showmakers Productions Inc., one of Vancouver's top corporate graphic design agencies. While working there Bill was awarded a "Top Illustrator" award by the Corel Corporation.

Today, Bill runs his own business in Kamloops as a freelance graphic designer and illustrator, producing imagery for corporate use worldwide.

Bill has been a proud supporter of the DAAD program, contributing his time as a guest lecturer and providing equipment and financial support. David DiFrancesco, a former instructor of his, presented Bill the award. Bill's comments on receiving the award were, "UCC gave me a start in my business and I haven't looked back since. If you have talent and ambition, there is a place for you in the advertising and graphics industry."
Jo Rothenburger, Human Service Worker Certificate, 1987
TRU (UCC) Distinguished Alumni: Professional Achievement and Service to the Community Award
Jo Rothenburger, a graduate of the Human Service Worker Certificate in 1987, was the recipient of a combined Distinguished Alumni Award for Professional Achievement and Service to the Community. She was nominated by alumna Denise Harper for her accomplishments in her profession and for her work in the community.

After graduating from the Human Service Worker program at UCC, Jo was hired as a counsellor with the Thompson Valley Family Services Association.

In 1997, Jo chose to branch out on her own and began consulting work with a variety of clients including Ministry of Children and Family Development, Kamloops Community Advocacy Council, Kamloops Food Bank and Outreach Society, and the City of Kamloops. In 2003, Jo was hired as the Executive Director for the AIDS Society of Kamloops.

As a volunteer Jo has served on a number of community committees and boards. She is a well recognized individual in Kamloops for her professional and volunteer activities that have resulted in the delivery of high quality social services to marginalized and disadvantaged people in our community.

Jo was delighted to be presented her award by former instructor, Ena Fraser. Jo commented on her award saying, "It's a great honour to receive this award, but the real credit should go to instructors in The Human Services worker program. They took a greenhorn like me, let me loose in the community with the right tools and skills and I was able to make a difference with what I had learned."
Lisa Allgaier, Bachelor of Social Work, 1993
TRU (UCC) Distinguished Alumni: Grace Chronister Award
The Grace Chronister UCC BSW Distinguished Alumni Award was developed by faculty and alumni of the Department of Social Work to recognize outstanding achievements of UCC BSW alumni whose endeavours in the community have brought honour to the UCC School of Social Work & Human Service and to the profession of social work.

Lisa Allgaier, a 1993 graduate of the Bachelor of Social Work Degree, is the recipient of this year's award. Lisa was nominated by faculty members Michael Crawford and Grant Larson and is being honoured for her professional accomplishments in the field of social work.

Lisa is the Director General of Aboriginal Services for Corrections Canada. In her role she is responsible for correctional and parole programs for male and female Aboriginal offenders. The goal of the program is to reduce recidivism and promote successful reintegration of Aboriginal offenders in the community.

Prior to her work at Corrections Canada, Lisa had several roles with the Provincial Government, including Director of Aboriginal Health and Assistant Treaty Negotiator. She has held many volunteer positions on local, provincial and national boards, from the John Howard Society of Kamloops to the BC Association of Social Workers.

Helen Allen, Dean of the School of Social Work and Human Services, presented Lisa Allgaier with the first Grace Chronister UCC BSW Distinguished Alumni Award. Lisa flew from Ottawa to receive her award and was thrilled about being the first recipient of this prestigious award. Lisa says, "I am honoured to be the first person to receive this award. The education I received at UCC got me to where I am today. Taking the Bachelor of Social Work degree, allowed me to have a diversity of career choices"
Dr. Roland Cobb, PhD Physics & Astronomy, 1967
TRU (UCC) Distinguished Alumni: Teaching Excellence Award
Another new category this year, the Distinguished Alumni Award for Teaching Excellence, recognizes current and retired instructors who represent the best qualities of teachers at UCC: leadership, knowledge, inspiration, enthusiasm, and excellence in their field.

This year's award recipient was Dr. Roland Cobb, a retired Physics and Astronomy instructor, nominated by alumna Marilyn Poncelet.

A graduate of UBC in 1959 with a Bachelor of Science, Roland went on to receive his Masters degree in 1961 and his PhD in 1967 from the University of Rochester in New York. His work at Rochester involved research on cosmic rays from space using satellites and high altitude balloons. It was because of this research that he was invited to work with a Cosmic Ray group in the development of a telescope to search for primary gamma rays deep in space. These experiences lead to Roland's interest in the study of Astronomy.

After teaching at UBC, the University of Rochester, and the University of Victoria, Roland took a position at UCC in 1970 and taught Physics and Astronomy until 1999. Roland built the observatory at the university with the help of students and faculty. The observatory was used for teaching and astronomy lovers. As part of his community service work, Roland hosted many lectures on astronomy and conducted tours of the observatory hosting groups like the Girl Guides and Boy Scouts.

Over the years, Roland has been an active volunteer in the community, from volunteer fireman with the Kamloops Fire Department in the 70's to his recent involvement with the Habitat for Humanity society.

Upon being presented the award by UCC President Dr. Roger Barnsley, Roland commented, "Education should be fun. UCC gave me the opportunity to practice what I like doing - that's teaching."