2002 Recipients
2002 Distinguished Alumni Award Recipients
Charlene Yow, Service to the Community
Bachelor of Science in Nursing, 1998
Patrick Hogan, Professional Achievement
Respiratory Therapy Diploma, 1991
Charlene Yow | Nursing
TRU (UCC) Distinguished Alumni: Community Service Award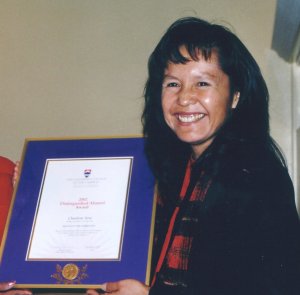 Charlene Yow, the recipient for the Distinguished Alumni Award for Service to the Community, is a Community Health Nurse at the Native Health Centre in Kamloops, a division of the Interior Indian Friendship Society.
Charlene has made significant professional and volunteer contributions to community health for aboriginal people and the welfare of women in Kamloops. Charlene's work at the health centre has exceeded the scope of a RN. She initiated a project that resulted in 45 at-risk youth being accompanied to the Vancouver Eastside to attend a series of workshops. She has gone beyond the call of duty by fundraising to help individuals and by accompanying clients to appointments because they were afraid or upset.

Charlene is known for her non-judgmental manner and her compassionate treatment of others. Beyond the Native Health Centre Charlene has served as board member for the Kamloops Sexual Assault Counseling Centre, as a participant in the Thompson Regional HIV/AIDS planning committee and as an advisor to both the Kamloops Street Clinic and the "In the hands of Women" project.
Patrick Hogan | Respiratory Therapy
TRU (UCC) Distinguished Alumni: Professional Achievement Award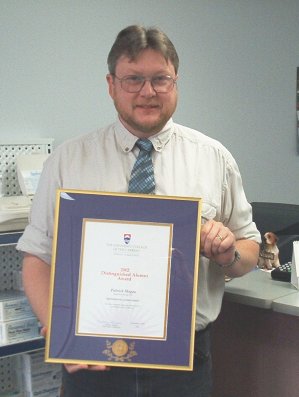 Patrick Hogan, the recipient of the Distinguished Alumni Award for Professional Achievement, owns and operates his own company - Ford's Allcare Home Health Centre in New Brunswick. He is the clinical specialist in respiratory therapy and employs seven full-time staff.

Patrick was selected for his contribution in time and energy to the betterment of his chosen profession. In 1991 Patrick received the clinical award for top student in his program and has continued to provide leadership in his field, serving as president in both the provincial and national Association of Respiratory Therapists. He has also served as a board member on both the Newfoundland and Labrador Lung Association and the Canadian Board of Respiratory Care, holding two portfolios at once.

Patrick was born and raised in Newfoundland and only lived in Kamloops for a short time while attending UCC. Patrick, moved his family from Newfoundland to accept a position in New Brunswick as a Clinical Coordinator with the Ford's Allcare Home Health Centre. After working there for a year, Patrick decided to purchase the company.