2001 Recipients
Distinguished Alumni Award Winners: 2001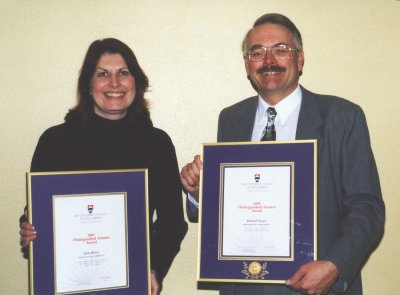 Jane Rowe & Roland Neave

Jane Rowe, BSW 1994
Service To The Community Award
Jane Rowe was recognized as a UCC Distinguished Alumna for her Service to the Community. This award recognizes significant service and contributions to the welfare and advancement of local, national or international communities.

Jane serves as a resource for the less fortunate in our community, providing them with information while fighting for their rights. She works at the Legal Service Society in Kamloops, giving access to the justice system to anyone who requests the service.

Working for Legal Services allows Jane to advocate for people in areas such as housing, income assistance, disability pensions and employment insurance. Jane taught a series of Advocacy Skills Training workshops in 2000 for community advocates to assist income assistance recipients, and this year is training more people to help with disability benefit recipients.

Among her many volunteer activities, Jane also gives her time to UCC as a volunteer mentor for the UCC Alumni Association, as a member of the UCC/BSW Field Education Advisory Committee, and giving classroom talks to second, third and fourth years students on various topics in social work.


Roland Neave, University Transfer, 1972
Professional Achievement Award
Roland Neave, owner of Wells Gray Tours Ltd., was recognized by the UCC Alumni Association as a UCC Distinguished Alumnus for Professional Achievement in business.

Post-secondary education for Roland started in 1970 at Cariboo College where he studied geography and history. After two years at Cariboo, Roland transferred to Simon Fraser University in Burnaby, BC, where he completed a BA in Geography in 1975.

Roland and some friends from SFU organized small groups to tour Wells Gray Park during the summers of 1972 through 1975. Roland didn't think this job would last, but the business grew into Wells Gray Tours. The company, in 29 years, has become one of the largest tour operators in British Columbia.

Roland has written a wealth of information over the years. He was first published when he was 17 years old. The book was entitled: Hiking the High Points. After encouragement from his instructors at Cariboo College, he wrote another book, Wells Gray Park: A Visitor's Guide to the Park and Environs, the new edition of this book is called Exploring Wells Gray Park. In 1997, he edited and published a second edition of Rain People: The Story of Ocean Falls, authored by Bruce Ramsey.

Roland never forgot the education he received at Cariboo College. Roland, his family and friends, and Wells Gray Tours Ltd., have contributed over $110,000 to support UCC students in three different programs.