2000 Recipients
Distinguished Alumni Award Winners: 2000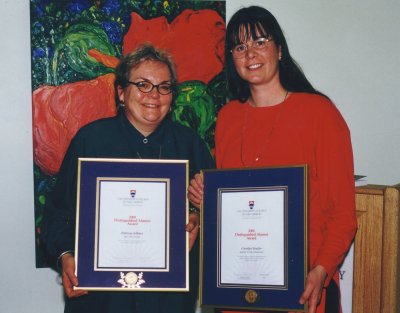 Tricia Sellmer & Carolyn Vossler

Carolyn Vossler, BSN, 1992
Service to the Community Award
Carrie Vossler is truly a deserving recipient of this award, which recognizes local, national and international community service. Carrie works on the front lines of health care as a Public Health Nurse in Merritt, BC, where she helps seniors, children, new parents and immigrants to Canada who may not be familiar with our health care system.

Carrie's humanitarian work extends to Africa, where she has twice volunteered in Zaire. Her first trip was for three months in 1988 while a student nurse at UCC. Her second trip in 1994 was with World Relief Canada when she went to help Rwandan refugees who had fled their civil war. Carrie worked in a refugee camp of 300,000 just outside of Goma for 14 weeks. "Every day, every hour what we did changed. There were 20,000 people an hour crossing the border from Rwanda. People were dying on the road," explains Carrie. "About 40,000 people died the first week I was there. It was very overwhelming."

Carrie and her husband Darryl are hoping to work overseas again in a developing country and have expressed a desire to go to a country where the people are in the greatest need.

Patricia Sellmer, BA '92, FAD '93, BFA '02
Arts and Culture Achievement
A fine example of life-long learning, Tricia is a graduate of 3 credentials from UCC, as well as a Bachelor of Education from UBC, and has completed two summer sessions at Emily Carr and an art residency at the School of Visual Arts in New York. Tricia has become an artist of international renown and she is actively involved in the Kamloops arts community, serving on numerous committees. In 2003, because of her commitment and contributions to the Kamloops Art Gallery, she was honoured with the dedication of a studio in her name, The Tricia Sellmer Studio.
Trica believes that, "An artistic community is a healthy community. A healthy community is a stable community." Her recent work includes spearheading The Forget Me Not Project, a project of collected public writings and her New York drawings, based on the subject of Alzheimer's and a Catalyst for Change legacy project for A.E. Perry School. Her work is found in collections across North America and England.
In recognition of her many accomplishments, Tricia was awarded the Distinguished Alumni Award for Arts and Culture Achievement in 2002