1998 Recipients
Distinguished Alumni Award Winners: 1998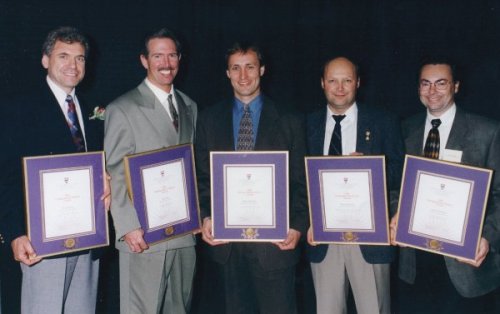 Ross Spina
,
Alan Hay
,
Mark Madryga
,
Doug Baleshta
,
Robert Holden
. Missing is
Ross Boulanger
Doug Baleshta (UT '74)
Service to the University

Doug received the Service to the University award because of his considerable service and dedication to UCC, its faculty and its students.

He is an Assistant Professor as well as the Web Process Coordinator in the Technology Advancement Group at TRU. Doug provides numerous sessions and hours of assistance to faculty, staff, and students on using technology.

Doug's involvement with community extends from being a past Board member of the Kamloops Symphony Society to serving on the Canada Summer Games committee, as well as having served on the first Board of Directors for the UCC Alumni Association. Doug's personal and professional interests are a credit to not only himself, but to the University locally, provincially and internationally.
Robert Holden (UT '75)
Service to the Community
Bob is a Chartered Accountant and a partner in the accounting firm KPMG in Kamloops. He graduated from UBC in 1978, and returned to Kamloops to complete his requirements to become a CA in 1980. Bob has been a very active member of the Kamloops community.
He was on the executive of the Kamloops Curling Club for many years and actively encouraged the Club to seek international bonspiel opportunities. He played important roles in organizing the Canadian Mixed Championships, the Four West Intercollegiate Championship, the Labatt Briar in 1996, where he was the Vice Chair of the organizing committee, and the 1997 World Curling Championship. Bob was the Finance Chair of the Canada Summer Games, held in Kamloops in 1993, a four year volunteer commitment on his part. Bob also served on the inaugural UCC Alumni Board and was instrumental in establishing the Association.
Holden continues to serve the community of Kamloops with his volunteer work coaching curling and most recently was a founding member and Board member of the North Thompson Relief Fund, which helped raise and distribute over $6,500,000 to the forest fire victims of the North Thompson.
Ross Boulanger (UT '83)
Academic Achievement
Dr. Ross Boulanger is an Assistant Professor in the Department of Civil and Environmental Engineering at the University of California at Davis. When Ross attended UCC he was the winner of the Governor General's Silver Medal for the top college student in British Columbia. He went on to UBC where he received his Engineering degree and then received his Master's and PhD in Engineering from the University of California at Berkeley.

Ross was awarded this year's Academic Achievement award because of his extensive work in fundamental and applied research in geotechnical earthquake engineering, with research in dynamic centrifuge modeling of soil-structure-foundation systems, testing of soils in the laboratory, and field work at earthquake damaged sites. Ross is the recent recipient of a National Science Foundation Career Award in the United States.

Alan Hay (UT '77)
Athletic Achievement
While attending Cariboo College in the mid-70's, Alan played on the hockey team. When he transferred to UBC to complete his Bachelor of Secondary Education he switched from skating on water to diving into it with the UBC Varsity Springboard Diving team. Since 1987, Alan has been an official with the Canadian National Diving team which allows him to judge men's and women's diving at all Canadian levels and internationally.
As a volunteer with the Canadian National team, Alan has been the team leader at the Commonwealth Games in Victoria, at the World University Games in Japan in 1995, and was the team manager for the Canadian team that competed in the World Aquatic Championships in Perth, Australia in January, 1998. Alan volunteered 3 weeks of his time to accompany the team to Perth.

Mark Madryga (UT '84)
Professional Achievement
Mark completed his Bachelor of Science in Physical Geography with specialization in Urban, Synoptic and Air Pollution Meteorology at UBC, followed by a fifth year in Science studying Physics, Meteorology and Oceanography. After attending the Meteorologist Operational course for 8 months, Mark began working as a meteorologist. He has been a Meteorologist with Environment Canada at the Pacific Weather Centre in Vancouver since 1987 and has been the weekend Meteorologist at Global Television (BCTV News) since 1994.
Ross Spina (UT '71)
Professional Achievement
After receiving his Professional Teacher's Certificate, Ross began teaching at John Peterson Junior High. Since then, he has continually upgraded his academic credentials, receiving his Masters of Education from the University of Victoria in 1988. Ross has gained the respect of the Education community in Kamloops, provincially and nationally for his leadership role in developing programming for special needs students.
His career in education has continually advanced and he is now the Director of Secondary Education for School District # 73. Ross has participated in the development of joint partnerships with TRU, most recently working on the Career Technical Centre which allows secondary students to complete Grade 11 and 12 core courses along with up to one year of post-secondary instruction at TRU.
He is the President of the Board of the Phoenix Centre, serves as a director for the McQueen Lake Society, and is a longtime volunteer and member of the Colombo Lodge. Ross's key role in the development of School District-TRU partnerships led to an invitation to visit China last fall as a guest of the Chinese government to share ideas and strategies with middle school districts and universities