Emergency Marshals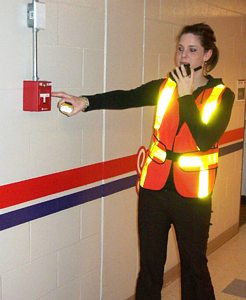 The BC Fire Code requires institutes like Thompson Rivers University to have an emergency marshals program.
Currently, TRU has approximately 80 trained emergency marshals distributed throughout the campus.
The following information is only a brief overview and is not as comprehensive as the information communicated to emergency marshals through their training.
Duties of emergency marshals
Advise all personnel within your area to evacuate by the nearest safe exit and meet at the nearest assembly area during any emergency or fire.
Maintain an orderly evacuation.
Conduct a sweep of your area to ensure evacuation is complete.
Check washrooms, rest areas, or any place where alarms may not be audible.
Ensure building entrances are not congested.
Cooperate with incident command, security and fire officials.
Participate in debriefings resulting from the evacuation.
Complete a monthly inspection checklist for fire safety issues in your area.
Training
There will be at least two training sessions per year that wardens are required to attend. Also, supplementary training in such topics as Fire Extinguishers, Dangerous Goods, Fire Safety Plans and other topics of interest to wardens can be provided upon request.
Forms
Emergency Evacuation Debrief: This form is to be filled out after a real incident, or drill. Its purpose is to identify and address issues arising from an evacuation. Completing the debriefing form will hopefully determine what went right, what went wrong, and provide solutions to problems or ways to improve the evacuation process. » Emergency Evacuation Debrief Form
Monthly Inspection Checklist: This form is to be completed every month. It will identify potential fire hazards and safety issues such as piled up combustibles, exit signs not illuminated and fire safety equipment that has been tampered with. The form is one page, and can be filled out effortlessly. » Monthly Inspection Checklist
Fire/evacuation drills
A minimum of two annual fire drills will be performed. TRU attempts to have three drills per year. Participating in drills will get wardens more comfortable with their responsibilities, improve evacuation efficiency, and identify and address any issues so that in a real incident evacuation things go as smoothly as possible.
Other notes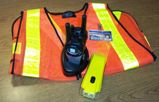 Emergency marshals are not ever expected to put themselves in danger to do a sweep or to assist trapped or injured persons.
Each emergency marshal is assigned a high-visibility vest, portable radios, and a battery-free flashlight for their use during an emergency.
The greater the number of wardens our institution has, the more effective our system will be. If you are interested in becoming an emergency marshal or want further information, please contact the safety officer at 5139.