Adventure Studies Menu
Ross Cloutier
MBA (International Business)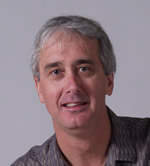 Office: OM 1271
Phone: 250-371-5840
Email: rcloutier@tru.ca
Teaching Areas
International Adventure Tourism Development
The Culture of Adventure
The Business of Adventure
Legal Liability and Risk Management
Sail Cruising
Experience
Ross Cloutier is the founder of the Adventure Studies Department at Thompson Rivers University (formerly UCC, University College of the Cariboo) in Kamloops, British Columbia. He is the owner of Bhudak Consultants Ltd., which specializes in providing outdoor-related risk management services to schools, colleges and universities, businesses, and governments.
Prior to joining TRU in 1992, Ross was employed by the Justice Institute of British Columbia as the British Columbia Provincial Search and Rescue Training Coordinator. He was the founder and owner of Wells Gray Backcountry Chalets, and was employed as a mountain guide. He was the Climbing Leader of the Mt. Everest Canada expedition in 1991.
Mr. Cloutier is recognized as an authority in adventure-related legal liability and risk management. He has conducted numerous program reviews and accident investigations including the accident investigation into the Roger's Pass avalanche for Strathcona-Tweedsmuir School in 2003.
Ross is the past president and CEO of the Canadian Avalanche Centre and past chair of the National Safety Committee for Outward Bound Canada.
Education
MBA (Southern California), International Business
Recreation Administration Studies, BA (Alberta)
Physical Education Studies, BPE (Calgary)
Research Interests
Adventure tourism legislative reform
Risk analysis and rating of adventure sport activities
Adventure tourism legal liability
Accident management and mediation
Risk communication
Ross has written dozens of consultancy reports, articles and projects in the area of adventure liability and risk management.