Adventure Studies Menu
Iain Stewart-Patterson
BPE (Calgary); M.Ed. (Calgary); PhD (Edinburgh) in progress, ACMG, UIAGM, IFMGA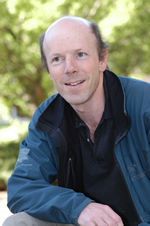 Office: OM 1269
Telephone: 250-828-5184
Email: spatterson@tru.ca
Experience
Iain has been an instructor in the Adventure Studies Department since 1992 and has been involved in Adventure Education since 1979. He spent ten years working for Outward Bound Western Canada. He is a fully certified mountain guide and has worked for: Coast Range Heliskiing, Canadian Mountain Holidays, Mike Wiegele Heliskiing, Northern Escape Heliskiing and Yamnuska Adventures. His current research interest focuses on the human factors which effect expert decision makers.
Teaching Areas
Adventure Leadership
Instructional Skills
Rock Climbing
Ice Climbing
Mountaineering
Avalanche Safety
Ski Touring
Academic Qualifications
BPE (major Outdoor Pursuits) University of Calgary
MEd (Curriculum and Instruction) University of Calgary
PhD Candidate - University of Edinburgh, Scotland
Professional Qualifications
Association of Canadian Mountain Guides: Full Mountain Guide (International Federation of Mountain Guide Associations designation IFMGA/UIAGM); Professional member; Instructor/Examiner
Canadian Avalanche Association: Professional member; Avalanche Safety for Ski Operations—Level 2; Course Leader—Level 1
Wilderness Medical Associates: Wilderness First Responder
Douglas College: Facilitator Development Workshop
Research Interests
PhD Dissertation – The Role of Intuition in the Decision Process of Canadian Ski Guides
Ice Screw Strength: An analysis of the optimum placement angle in Waterfall Ice.
Decision-making in the Mountain Environment: A study of best practices in the training of decision making in mountain guide/leadership programs in France, Canada, Britain and the USA.
A study of shock loading in belay anchor partial failure.
Scholarships
Godfrey Thomson Scholarship – University of Edinburgh
Research Scholarship - University of Edinburgh
Publications
Intuition in the Decision process of Canadian Ski Guides, International Snow Science Workshop Conference Proceedings, Whistler, BC. September 2008
Developing Good Decisions, The Avalanche Review, Winter 2005
Guiding decisions - Are we as good as we think we are? ACMG News, Dec 2004
Decision Making in the Mountain Environment - Observations on how mountain guides are trained and assessed in decision making skills, International Snow Science Workshop Conference Proceedings, Sept 2004
Climbing Rescue Systems, Proceedings of the 15th Annual ICORE 2001, Eds. Joyce P. and Poff R., Association of Outdoor Education and Recreation, Bloomington IL. pp. 12-15, 2001
(With W. March.) Climbing to the Top of the Heap. Catalyst. Vol.3 No.4 February 1990.
Peer reviewer for Wilderness Medical Society journal – Wilderness and Environmental Medicine
Other Activities
During his spare time, he has been a volunteer judge for Climbing Escalade Canada at the Canadian Youth National and Regional Climbing Championships, and the North American Continental Youth Climbing Championship.