Adventure Studies Menu
Terry Paleschuk
Adventure Guide Diploma, BPE(Alberta), MBA – Community Economic Development (Cape Breton University), ACMG Ski Guide, Hiking Guide, CAA Professional Member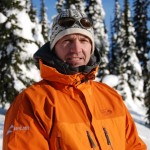 Office: OM 1255
Phone: 250-371-5844
Email: tpalechuk@tru.ca
Teaching Areas
Coordinated the CMSG from 2000 to 2009. Now teaching full time. Areas are: Wilderness Travel, canoeing, ski touring and avalanche education.
Education
BPE (Alberta)
Ski Guide, Backpacking Guide (ACMG)
Experience
Terry worked for 15 yearsas a river guide in Jasper, Alberta,and on the Tatshenshini and Nahanni Rivers in the north. Terry enjoys backcountry ski touring, and In the winter season, works in variousbackcountry ski lodges.He recently completed the ACMG Full Ski Guide certification.
After five years as the assistant manager of the Campus Outdoor Centre at the University of Alberta, Terry joined the Adventure Programs Department in 2000.