Academic Program Review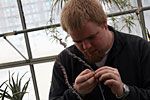 The purpose of Academic Program Review (APR) is to assess each program's health through evidence-based inquiry and analyses, with the findings documented in a comprehensive report and action plan. The focus of APR is on program improvement, sustainability and accountability. Academic Program Review is part of the Office of the Provost and Vice President Academic.
Academic Program Review answers four basic questions:
What does your Program do well ( strengths)?
What does your Program need to improve ( opportunities for improvement)?
Where does the Program want to be in 5-7 years ( goals and objectives)?
How is the Program going to get there (action planning)?
The evidence-based APR process at Thompson Rivers University comprises several elements:
A review of a comprehensive set of program-specific data,
Completion of a SWOT Analysis (Strengths, Weaknesses, Opportunities, Threats) by program faculty,
The completion of the Program Self-Study Report, by the program,
Compilation of the results from a survey of all program faculty,
Compilation of the results from a survey of current students,
The site visit by external reviewers recognized in their field of study,
The writing of a comprehensive report that will be shared within the University,
The development and on-going monitoring of a Program Review Action Plan that will guide program improvements in subsequent years.