VP's Welcome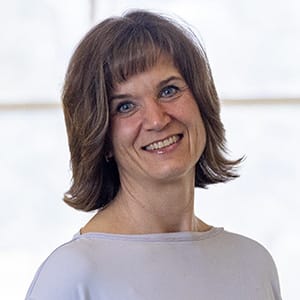 Weytkp!
It is with excitement and happiness that I begin the journey as TRU's inaugural vice-president of research. TRU is an exciting place to lead research — we have a strong history and reputation for research excellence, and we continue to grow, learn and develop in the research space.
Over the last decade, we have experienced exponential growth in research capacity, funding, output and knowledge translation. Our expertise and experience in community-engaged research create a welcoming and engaging environment for relationships with the local communities and regions we serve.
TRU's research reputation reaches provincially, nationally and internationally with renowned researchers in areas such as wildfire science and ecology, children and the law, and Indigenous land and resource policy.
Research at TRU is dedicated to advancing knowledge and impacting our strategic research areas, with particular attention to serving the needs of Secwepemcúl'ecw through community-engaged research.
An integral value of TRU is Kw'seltktnéws, a Secwépemc word meaning "we are all related and interconnected with each other and all things." This central value guides us in meeting our mission to serve in training, education, research and scholarship.
TRU has a special relationship with Tk'emlúps te Secwépemc, outlined in an MOU with the university, providing recognition and consideration for local traditions, knowledge and expertise.
TRU is home to the All My Relations research centre — providing research support and service to Indigenous faculty and students — and the award-winning Knowledge Makers, an Indigenous research network dedicated to transforming universities by engaging Indigenous students across disciplines in research and publication.
Our five-year Strategic Research Plan solidifies our commitment to making a positive impact with five key challenge areas related to changing climate and sustainable solutions; social justice, inclusion and responsibility; health, quality of life and cultural sustainability; technological, social and economic development and innovation; and Indigenous truth, reconciliation and rights.
TRU's research culture is strong and vibrant, with two current research centres and several more under development. We have six Canada Research Chairs working on CIHR, SSHRC and NSERC-supported areas, three regional research chairs and an endowed professorship.
We are firmly committed to equity, diversity and inclusion (EDI) in all aspects of research and scholarship and, as such, are signatories to the Canadian government's Dimension Charter, publicly recognizing our commitment to these values. TRU's Canada Research Chair Equity, Diversity and Inclusion Action Plan is available, and an Executive Director of EDI and Anti-Racism has recently joined TRU's senior administration.
I am so looking forward to helping build TRU's reputation for research excellence and working with everyone interested in becoming involved in research, whether as a seasoned expert or a new research explorer.