Staff Parking
Users must clearly display a valid daily ticket or a valid long-term parking permit.
8 a.m. to 5 p.m. | Monday to Friday
Except for: statutory holidays (reading break and exam dates are not considered holidays), or days that TRU is officially closed.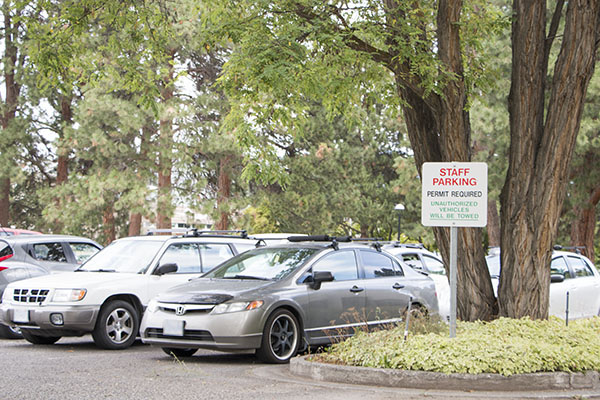 Vehicles not clearly displaying a valid Daily Ticket or Parking Permit will be subject to a ticket and/or towing without warning at the owner's risk and expense. e-Permit holders aren't required to display anything.
TRU staff may park in designated TRU staff parking lots — provided that they display either:
A valid staff parking pass along with daily ticket payment
A long-term parking permit
Fill out an online application (accessible only from the TRU campus staff network).
1. Ticket acquired through a ticket dispenser in most staff/student lots (except for half-day, which is only for Lot E), and must be displayed on dashboard; face-up on the driver's side. If parked in a staff lot, a valid annual staff parking pass must also be displayed.
Alternatively, instead of paying at a dispenser, a day pass can be purchased through the PayByPhone website or app. Or call their hotline for a $0.25 service fee (more info on signs in each parking lot).
2. Must apply in-person at the Parking Office.
3. Additional $0.75 fee applies. No display on dash required. E-Permits are not valid in metered/visitor parking lots (Lots K, P, i, and V).
4. Process is the same as acquiring a staff parking pass.
Notes that apply to all
1. No person shall occupy a parked vehicle on campus overnight, regardless of whether a valid parking permit is displayed. Overnight parking is only allowed in Lot N and Lot M, unless otherwise approved by the Parking Office.
2. No refunds or cancellations.
3. Replacement costs for lost permits and passes are as follows: $20 for annual permits, and $10 for semester permit or annual parking pass.
4. Any difficulty encountered with ticket dispensing machines should be reported immediately to the Parking Office: parking@tru.ca or 250-828-5368.