Road and Parking Closures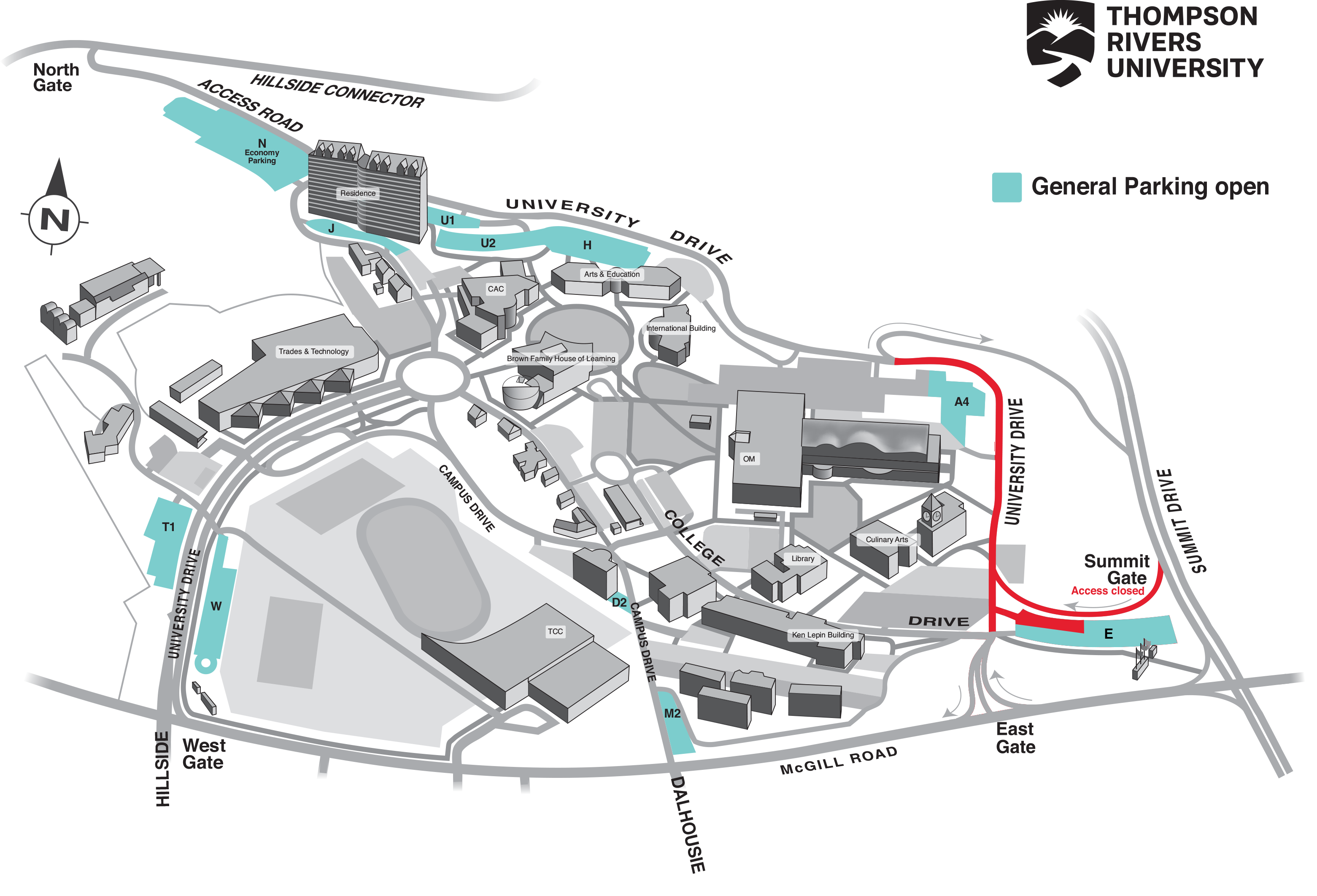 Getting in and out of TRU Kamloops is going to take time
We're sorry. Road and underground wiring/pipe construction on campus has hit some bumps and now we're stuck with closures at the East Gate and University Drive East until some time in November.
We're as frustrated by this as you are. It's not ideal, but we do have some suggestions that can make it a little easier on you driving on and off of campus.
Alternative plans for travelling to and from campus
Leave home earlier to give yourself breathing space. The first couple weeks of school are going to be a little harried anyway, so giving yourself more time to get around will help. Set your alarm half an hour earlier, make a coffee to-go and put on some zen music in the car.
Figure out your best route to get to where you need to go. With the main access at University Drive East closed, you can bet that most people will drive to the next entry point at Dalhousie and McGill. We suggest using the West Gate, further west on McGill past the Tournament Capital Centre, or even the North Gate on Hillside Drive North. While those options might make your drive to campus longer, they could be faster in the long run.
Know which parking lot you are going to ahead of time. If you have a spot in a premium lot, you'll know exactly where you need to be. If you're aiming for a stall in general or economy lots, find out where they are located when you plan your commute to campus. If you are arriving at a busy time, you might want go straight to a lot that's on the perimeter of campus. You can expect there will be a lot of people heading to the central lots first, and those lots could fill quickly.
Lot N on the northwest side of campus has hundreds of spaces and will likely be the best bet for parking.
Consider carpooling through TRU Rideshare. You'll be matched with other people who live near you and are on a similar schedule.
If you decide to ditch the car, you can always take BC Transit bus to avoid traffic hassles.
Another option is you-power: walking or cycling. TRU has bike racks and locked, secure bike compounds around campus. City buses have bike racks on them, which can help you combine your transportation options.
To those of you who have opted not to drive (thank you!), we are making sure campus is accessible and walkable, with a network of paths and trails connecting our buildings.
Again, we are sorry for the traffic tie-ups. We are doing our best to get this over with as soon as possible. We will keep everyone up to date as road construction continues.
---
Frequently Asked Questions (Updated Aug. 24, 2017)
We understand the road closures are causing inconvenience and we apologize for the difficulties this is creating for our community. Unfortunately, the timelines we strived to meet with our construction partners could not be achieved. We hope these questions and answers will give you information you can use to assess the transportation options available to you, and make a plan for getting to and from campus while the road closures are in effect
Why are the roads closed?
TRU needs to make upgrades to underground wiring and utilities supporting all areas of campus. Currently, construction projects are imminent or underway in the university's own revenue-generating development, The Reach; the new Industrial Trades and Technology Centre; and the new Nursing and Population Health building. We are working with construction partners on this complex project, but as can happen, unanticipated challenges – such as old asbestos pipes that needed careful handling –have pushed out times for the upgrades and led to this closure.
These are all long-term improvements for TRU and our students, through the creation of state-of-the-art facilities and fund-generation. There will also be more roadside parking available on campus when this work is completed in November.
Why is this happening now?
We had tried to get the work done before the start of classes in fall. This was definitely not when we wanted to have roads closed. However, certain processes must be completed before a construction project can move from one phase to another. In this case, these processes extended from initial board approvals, to securing permits, legal and government approvals, sourcing and scheduling specialized equipment and crews to do the work, and then the work itself. A delay at any one of these junctures can throw the construction timeline off. We encountered challenges in many of these steps and that ultimately made the road closure now unavoidable.
What is the best way to access campus and find parking?
Plan your route to access campus and get to your parking lot ahead of time. The closures affect the East Gate access off Summit Drive and the University Drive East access off McGill close to Summit. It also affects parking lots E, near Summit and McGill, and A2 behind Old Main.
Look at getting onto campus from the West Gate (past the Tournament Capital Centre) or North Gate (on Hillside Drive North), which are expected to be less congested than the entry point at Dalhousie and McGill. Those other entrances will also get you closer to parking lot N, which is further from the areas that will be prone to congestion.
Give yourself more time to arrive and leave campus. The road closures will likely cause traffic delays in getting to assigned parking and drop-off spots, if you are getting a ride. It would be best to leave for campus 20 to 30 minutes earlier than usual. If you have scheduled obligations at the end of the day, talk to your supervisor or your instructor to make arrangements so you can fulfill your work duties or complete your assignments.
Are there other ways to get to campus?
The City transit service is still running as per usual. The link will connect you to schedules and maps for all campus routes. For students who are entitled to a free UPass, transit may be an especially economical option. Like many students and employees, you can opt to walk or bike to campus. Bike racks are located at the south and west entrances to Old Main, south of the House of Learning, north of the Science building, inside the main entrance of the BC Centre of Open Learning, near the library main entrance, near the TRUSU main entrance, between the International Building and Arts and Education building and by the main entrance to the warehouse. There are racks on the front of City transit buses for cyclists who may need to take transit for part of their route. As well, TRU Rideshare will help you find carpool partners from your area.
What is the timeline for the closures?
TRU found out on Aug. 17 that the closures were going to be necessary. Ever since, we have been working hard to get information out and to make plans and accommodations as much as we can. The construction work causing the road closures is anticipated to last into November. We will provide updates as work progresses to keep everyone informed and we will let everyone know as soon as possible when it is all over.
Will this affect transit or emergency access?
BC Transit has been notified of the road closures and traffic changes. The affected access roads are not routes that transit uses. However, there may be delays due to traffic congestion resulting from the road closures.
Emergency services such as police, fire and ambulance have been notified about the closures. They still have full access at Dalhousie, West Gate and North Gate.