Accessible Parking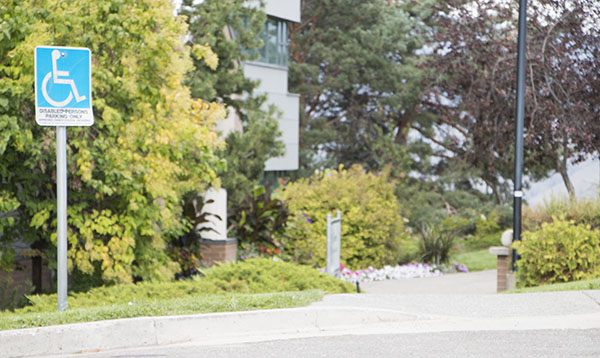 Users of designated accessible parking spaces are required to display a valid accessible parking permit along with appropriate parking payment.
1. Ticket acquired through a ticket dispensor in most student lots (except for half-day, which is only for Lot E), and must be displayed on dashboard; face-up on the driver's side. If parked in a staff lot, a valid annual staff parking pass must also be displayed. Alternatively, instead of paying at a dispenser, a day pass can be purchased through the PayByPhone website or app. Or call their hotline for a $0.25 service fee (more info on signs in each parking lot).
2. Must apply in-person at the Parking Office.
3. Additional $0.75 fee applies. No display on dash required. E-Permits are not valid in metered/visitor parking lots (Lots K, P, i, and V).
For temporary use, permits are available (with an approved doctor's note) from the Parking Office. For long-term use, permits are available from Social Planning and Research Council of BC or People in Motion. Please refer to TRU campus map for all accessible parking space locations. Accessible parking is always designated, and is typically closest to buildings.