Staff myTRU Access
myTRU
The myTRU Portal Account provides everyone in the TRU Community with one-stop access to on-line services available. Within myTRU,staff and faculty can access class lists, submit final grades, view important campus announcements, view leave balances, time reporting, and much more.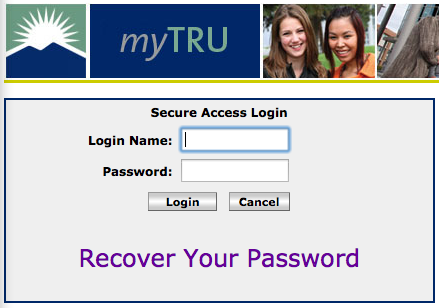 General FAQs
How do I get to the myTRU portal?
What is my login name and password for myTRU?
Your login name is your TRU ID (T followed by eight digits)
Initially, your birthdate in YYMMDD format. Example: September 1, 1998 is entered as 980901
How do I setup the Recover My Password functionality so I can recover my password if I have forgotten it?
When you log into myTRU for the first time, you are prompted to provide a recovery email for Password Recovery Setup. There are several steps required to complete the setup.
1. When prompted for a Recovery Email Address, enter your own email address (your TRU email, gmail, hotmail or other account).
2. An email from noreply@tru.ca is sent to the recovery email address you entered with further instructions that must be completed within one hour. If you do not see the email, check your spam or junk folder.
3. Finalize the setup for your myTRU Recovery Email address by clicking on the link within the email.
How do I change the recovery email address I previously setup for Recover My Password?
Login to myTRU and click the "My Account" link in the top left corner under the myTRU banner.
In the My Account window, scroll down and click on "Setup Alternate Email for Password Recovery".
A verification email from noreply@tru.ca will be sent to your recovery email account.
Open that email within one hour and follow the steps within to complete the verification process.
I tried logging in too many times and now I am locked out?
Your account will be re-enabled within 20 minutes at which time you can try logging again.
I am a new student and have tried to login to myTRU with my birthdate in yymmdd format but it doesn't work. What should I do?
There may be incomplete information in your student record or your birthdate has been entered incorrectly . Please contact one of the following numbers for assistance.

Registrar's Office at 250-828-5036 (On Campus Students)

Student Services at 1-800-663-9711 (Open Learning Students)
I did not set up Recover My Password correctly and I cannot log in. How do I reset my password?
How often do I need to change my password?
myTRU password changes are system enforced every 120 days. This password change policy is according to generally accepted practice and Thompson Rivers University Data Standards, Data Integrity and Security Guidelines. See More about Password Standards.
What about popup blockers?
Software originally designed to block annoying advertisements that "pop-up" when you visit certain websites. Many legitimate sites use pop-ups and require you to modify your pop-up blocker settings in order to use them. myTRU is one of these sites.
This software is included in every modern web browser and installed with many toolbars and security programs.
We suggest that you add an exception (allow) pop-ups for all TRU websites in one of your blockers and disable all the others. You need to add the exception *.tru.ca
If you are finding popup windows are still being blocked after adding an exception you may want to try an alternate browser such as Mozilla Firefox or Google Chrome.
What browsers are supported?
Windows
Firefox
Internet Explorer
Safari
What is the browser cache?
Each time you access a file through your web browser, the browser caches (stores) it. In this way, the files (including any images on the page) do not have to be retrieved anew from the web site each time you click the Back or Forward buttons. You should periodically clear the cache to allow your browser to function more efficiently and to ensure that you are viewing the most recent version of the page.
Are my username and password secure?
YES. The myTRU login page uses SSL encryption to ensure that your username and password are secure. This is reflected in the URL (https:) displayed.
What is the timeout on a myTRU session?
Your myTRU session timeout is the length of time for which you will remain logged in to myTRU while inactive. The timeout is 20 minutes long.
Ask another myTRU question or leave a comment