Digital Strategy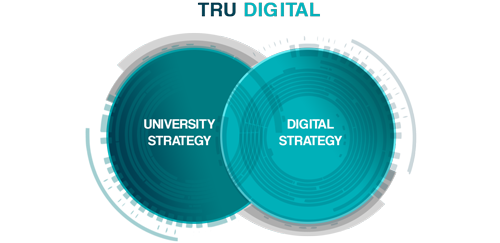 Vision
TRU will continue to actively leverage Digital capabilities in support of its teaching, research, and service missions.
The Student Experience
We are focused on implementing systems of engagement that help students succeed. Examples of this include our new mobile app, TRU Go, a new responsive design portal, and personalized messaging and notifications.
Student Success
Faculty and Digital Technologies
Supporting Digital Research
TRU has a state-of-the-art cyber infrastructure that enables innovative research. TRU researchers have access to high-speed research networks, low cost storage capability, high-performance computing on campus, and with WestGrid, next generation wireless and sensor networks access.
Connecting Conversations
Security and Privacy By-Design
We know that the privacy of our community members is essential so we design our systems with security and privacy in mind.
Better Together
Reinventing IT
Smart Spaces
Data Insight
We provide data inspired insights by analyzing the massive amounts of data we create in order to encourage effective decisions and enable better student support, interventions, and engagement.
Digital Solution Delivery
Our business process management team continuously automates and transforms business processes so that the focus remains on high value activities that promote student, faculty, and staff success.
Effective Digital requires a rethink of many aspects of our work including:
• Smart purchasing to ensure that the technologies purchased with our limited resources have the widest impact and value
• Effective contract and vendor management
• Integration of new technologies within the greater enterprise architecture so everyone benefits.