Security
Campus security services are provided by Paladin Security on a 24-hour basis. The security office (HL 128) is located on the first floor of the Brown Family House of Learning Building.
On-duty security staff can be contacted by calling 250-828-5033; Local 5033.
In case of emergency requiring police, fire or ambulance, call 911.
Building Access
Students requiring after hours access must obtain prior authorization through their instructors. Authorized after hours access can be obtained by contacting the Campus Security office at 250-828-5033.
Mobile Patrols
In addition to regular on-duty security staff, mobile patrols monitor activity in parking lots, either on foot or on bicycles.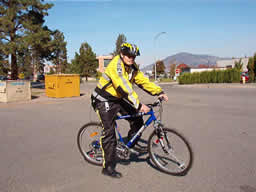 Auto Crime
Auto theft is a significant problem affecting Kamloops and TRU. According to the Insurance Corporation of British Columbia (ICBC), the number of auto thefts reported in Kamloops increased by 85 percent between 2001 and 2002, the greatest percentage increase of all listed municipalities in British Columbia.
ICBC's 10 Tips to Avoid Auto Crime
Keep your spare keys in your wallet, not in your car.
Invest in a good anti-theft device.
Close windows and lock doors. Take your possessions with you.
Avoid parking behind fences or hedges.
At home, light your driveway all night. Elsewhere, park in well-lit areas near pedestrian traffic.
After opening an automatic gate to underground parking, watch out for thieves waiting to slip inside. Wait for the gate to close behind you.
Ask an Autoplan broker about the Combat Auto Theft (CAT) program. CAT stickers authorize police to question anyone driving your vehicle between 1:00 and 5:00 a.m.
Engrave your stereo and other on-board valuables with your driver's licence number.
Install an anti-theft device to protect your stereo, or buy a unit that's removable and take it with you when you park.
If you see any suspicious person or activity near a vehicle, call the police immediately.
CAT Program Combat Auto Crime (CAT) is a joint program of British Columbia Automobile Association, ICBC and local law enforcement. More than 70% of all auto thefts occur between 1 a.m. and 5 a.m. When police spot a vehicle with a CAT decal on the road between 1 a.m. and 5 a.m., they stop the vehicle to verify the driver's licence and registration. There is no cost to join the program and receive a CAT decal. For more information on the CAT program, visit BCAA's web site

Crime Stoppers is a non-profit crime fighting organization with offices across Canada, the United States and other countries. TRU works closely with Kamloops and District Crime Stoppers to encourage the public to report crimes, to stay alert and to take measures to reduce crime. Crimes may be reported over the phone or by secure E-mail. Either way, tips are completely anonymous.