Jacob's Story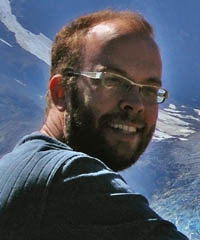 "It was not easy, but I believed in myself and I was very enthusiastic about what I was doing."
From two short years of post-secondary studies, with a four year hiatus in-between, sprung Jacob Cowan's impressive three degree CV. This feat, according to Cowan, is largely attributed to online and distance education.
It all began in Salmon Arm, BC, where Cowan completed his first year of studies through Okanagan University College. From there, Cowan took a work interlude only to return four years later to the institution's Kelowna campus to complete his second year of post-secondary education.
Enter online and distance studies.
"Before I enrolled in Open Learning through Thompson Rivers University I was seriously considering re-entering the workforce without a degree," Cowan recalls. "I would now be earning considerably less than I am and would have considerably fewer options."
In 1997, Cowan began his first course through Thompson Rivers University, Open Learning (TRU-OL); studies which he continued with for over a decade. The impetus behind Cowan's enrolment into OL was due to life changing circumstances – his wife was pregnant and he wanted to continue full-time studies while working.
"While I did my Open Learning classes, I worked full-time at the information Centre in Keremeos and part-time at the Keremeos Library and I also helped my wife with our newborn child," Cowan explained. "The flexible schedule and synchronous delivery provided by OL were essential to my [academic] success."
Throughout the ten plus years Cowan spent studying through distance learning, he received a Bachelor of Education in 2000, which he gained acceptance to as a result of his first years of OL coursework, a Masters of Education (Educational Administration) through distance delivery and a Bachelor of Arts (English) through TRU-OL in 2009.
Currently, this TRU-OL alumnus is looking ahead to the even more substantial options that could be his if he were to gain either another Masters Degree in a different field or a PhD through continued education. The $500 towards his Open Learning education that Cowan won in TRU-OL's tuition contest in December 2010 will certainly help him add another credential to his already impressive résumé.
Jacob Cowan
Hope, British Columbia