Team Info
The 2016-17 Canada West season will see a youthful but experienced WolfPack team take to the floor. Head coach Scott Reeves doesn't have any fifth year players and only one fourth year (Shenise Sigsworth, Kamloops, BC) to draw a veteran presence from.
Gone are the leadership and experience of Taiysa Worsfold (Kamloops, BC) , Kassie Colonna (Invermere, BC) and Sarah Malate (Calgary, AB). But that doesn't mean the 'Pack will be lacking for talent on the court this year.
Reeves will look to a pair of third year guards: Michelle Bos (Surrey, BC) and Emma Piggin (Kamloops, BC) to lead the way offensively. Both have had distinguished careers in the Canada West thus far. Piggin is a former member of the Nationals U-19 program and was a Canada West all-star this past season.
Bos is a former Canada West and CIS "All Rookie" team member.
The WolfPack made the Canada West post season for the fifth time in their history last season. They dropped a first round series to the University of Alberta Pandas.
Reeves and company are hoping that a full season from Jordan MacLean (Hinton, AB) along with a healthy Angela Clark (North Vancouver, BC) and more minutes from Emily Vilac (Kamloops, BC) will help shore up the rebounding loss of Colonna.
Kaneesha Reeves (Kamloops, BC) and sophomore Lelaini Carney (Burnaby, BC) scored some big points off the bench in 2015--16 and will be expected to do more of the same this year.
Added to the mix will be Cassandra Rerick (Prince George, BC). She 'red shirted' last season after transferring from the University of Northern British Columbia.
Chelsey Hoey (Parksville, BC) and Madeline Neumann (Calgary, AB) are sure to see more court time in their second seasons as well.

BC High School all-star Julian Duong of Britannia Secondary in Vancouver is a highly touted recruit.
The WolfPack will head to Carleton University before the season starts for a tournament,
Kamloops Basketball Academy
Welcome to the Kamloops Basketball Academy Family. Our staff looks forward to working with your children to help them become the best basketball players they can be. Our coaches will relate skills learned in practice and on the court to life skills, including handling pressure, discipline, teamwork, sacrifice and setting goals and priorities. Understanding that what we do today and how we do it affects the people we will be tomorrow. This will be done in an environment that emphasizes personal growth and development through positive and constructive feedback.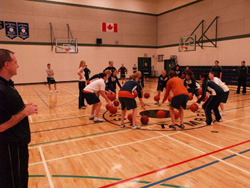 The KBA will be working on both the fundamental skills needed to excel as a player, and the core strengthening and conditioning needed to play at the highest levels. This will give the KBA Athletes a glimpse into the world of the University and Canadian National Team player. It will help to prepare them to meet and exceed their own personal goals within the game. Our coaching staff is dedicated to ensuring that all members of the KBA family enjoy the experience of setting and attaining personal development goals.
Kamloops Basketball Academy (KBA) is offering training sessions for boys & girls from grades 6-12. Cost for programs are $ 115 for boys and girls from Kindergarden to grade 5. Grade Six to 12 is $300. Younger players have one session per week, older players have two.
Membership in the KBA includes:
On court training will be conducted at Thompson Rivers University 1 time/week. This training involves skill development in areas of dribbling, shooting, passing and individual & team defensive concepts. The academy is not a "team" but the skills obtained through the academy will transfer into the team concept very well.
Some sessions will focus on the development of athletic performance in the areas of speed, agility, quickness (SAQ), movement preparation to enhance joint mobility and prevent injuries, ACL training, aerobic & anaerobic training as well as proper running technique.
Access to purchase a DVD and printed copy of training techniques (at a reduced price) so that training can continue year round.
Reversible KBA jersey, shorts.
Special day long clinics with other clubs and academy's from across BC

Coaches and trainers for the KBA are all certified through their governing bodies. On court sessions are managed by Thompson Rivers University Women's basketball coach, Scott Reeves. Coach Reeves is a certified level III NCCP coach. Other guest coaching appearances will be made by TRU athletes and other coaches from Kamloops and BC.
The off court sessions will be directed by Head Athletic Therapist of Thompson Rivers University, Kevin Brechin. Kevin holds a bachelor degree in Science and is a certified strength and conditioning coach.
Email Coach Reeves at sreeves@tru.ca to register or find out more information!
Our Coaching Staff are available anytime to answer any enquiries or questions that you may have regarding the program. We look forward to seeing you at the gym.
Scott Reeves - KBA instructor