TRU McDonald's Sport Camps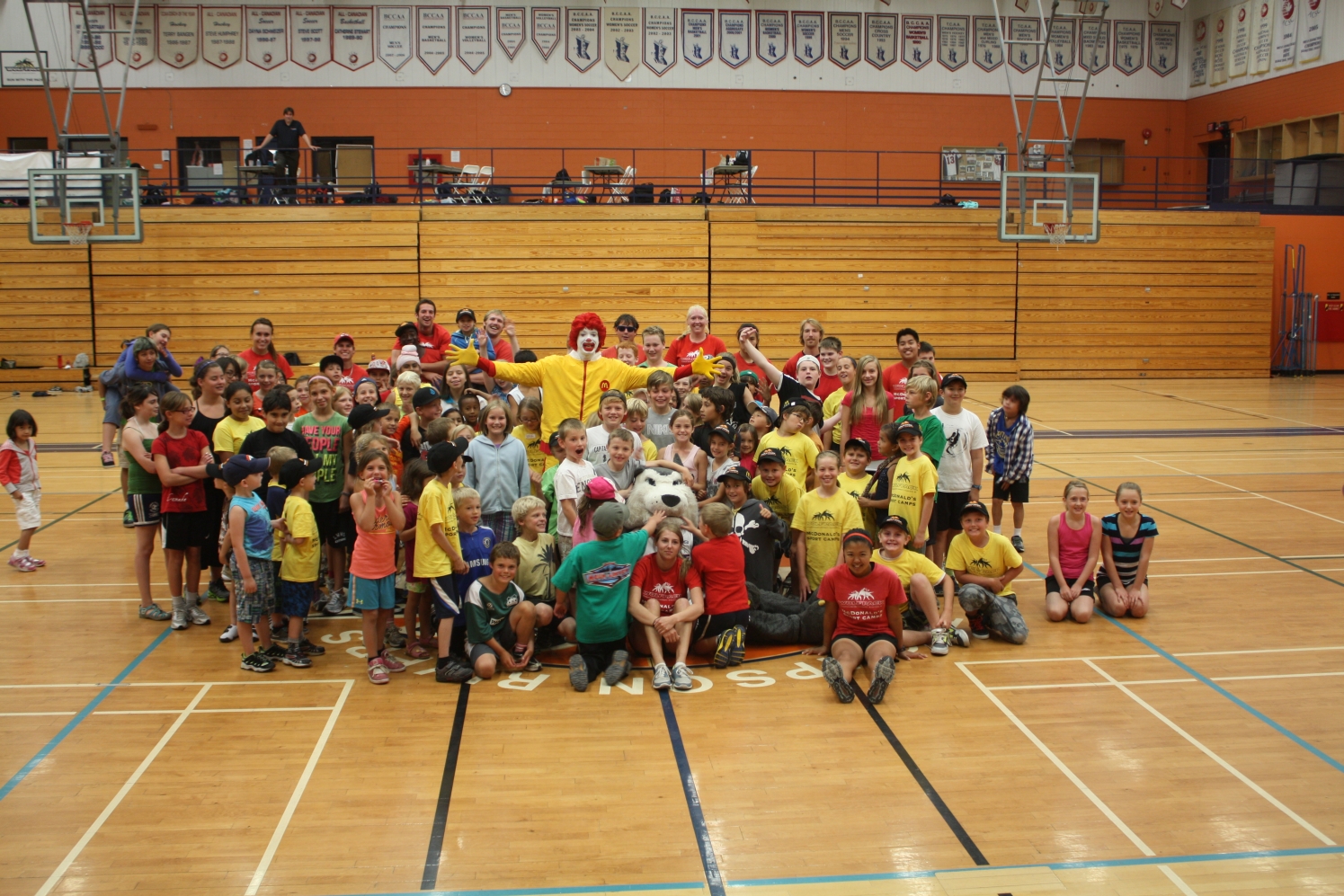 ---
Pro-D Day Drop In Multi Sport Camps 2017
While camps may not get into full swing until the end of school, we know there are a few Pro D Days and Holidays left in the school year. So we are happy to announce our Pro D Day Multi Sport Drop In Camps!
Pro D Day Drop In Multi Sport Camps
Monday May 15, 2017
Monday May 22, 2017
> Ages 6-12 > TRU Gym > 9:00am-4:00pm* > $60.00
This will be on a drop in basis. Arrive by 8:45 to register and drop off.
*Camp Doors Open at 8:45 am and Close at 4:15pm
---
2017 TRU McDonalds Summer Camp Registration
Summer Camps 2017 Registration Opens April 3, 2017 @ 1:00pm
Exclusive early bird special of 25% off your camp registration if you register before May 31st!
Please note: Performance Camps will be run separately by TRU Varsity Coaches and discounts are not applicable.
If you have any questions at this time please direct them to:
Sport Camp Director, Nathan Bennett
nbennett@tru.ca 250-828-5384
or
TRU Summer Sports Camps Office
250.852.7135
sportcamp@tru.ca
We look forward to seeing everyone back for Summer 2017!
Let's continue to keep our youth ACTIVE!
---
Volleyball, Basketball & Soccer WolfPack Performance Camps 2017
Registration Opens: April 3rd 2017

WolfPack Volleyball Camp - Volleyball Camp 2017
July 30-August 3 2017-Chad Grimm(cgrimm@tru.ca)

Co-ed camp for Ages 12-18

The camp will be located at the Sandman Centre and Riverside Park for 2017

Registration will take place at the TRU Old Gym on July 30

Full Day Schedule

Over Night Camp Option ($600.00)

Day Camp With Lunch Option ($340.00)

Day Camp Without Lunch Option($275.00)
July 30 - Check in and Physical Testing, 4:00pm Check in at TRU Residence for Overnight Campers 4:30 pm check in at TRU Gym for Day Campers. Physical Testing will run 5-7pm at TRU Gym.

July 31-August 3 - (Session 1 - 8:30 - 11 am) Snack from 11am - 11:30 am (Session 2 - 11:30 am - 1 pm) LUNCH from 1-2pm (Session 3 - 2pm - 4:30 pm)
---

WolfPack Basketball Camps Hosted by WolfPack Mens Basketball Coach Scott Clark and Women's Coach Scott Reeves
August 28-31, 2017
- Girls Camp for Grades 6-9
- Boys Camp for Grades 1-6
WolfPack Soccer Camps Hosted by WolfPack Men's Soccer Coach John Antulov and Women's Soccer Coach Kelly Shantz
- Both the Girls Camp and the Boys Camp are for Grades 6-9
For More Information Contact Nathan Bennett at nbennett@tru.ca
To Register Click Here
---
TRU McDonald's Sport Camps 2017 Partnerships TBA!
In 2016 the TRU McDonalds Sport Camps has partnered with active community groups to offer more experiences for all our campers!

Check out the list of our partnerships and what camps they will be featured in!
-Freeze Athletics Cheerleading (Girl Power Week TBA)
www.freezeathletics.com

- ECOSmart Team (Multi Sport Camps Several Weeks)
http://www.kamloops.ca/environment/ecosmartteam.shtml
- Kamloops active!
Interested in partnering with TRU Sports Camps? Contact Camp Coordinator Nathanatnbennett@tru.ca or sportcamp@tru.ca
---
2017 TRU Cheer Pup Squad Kids Camp
Learn to be a cheerleader with the Thompson Rivers University Wolfpack Cheer Team!
On March 24 - 25, the Wolfpack Cheerleaders will be hosting a cheer camp for kids aged 6-12 in the University Old Gym on the Thompson Rivers University Campus. There will be beginner workshops in level 1-2 cheer stunts, dance, and tumbling. Participants will also be given the opportunity to create their own cheer bows and will be provided with lunch on both days. The camp will run from 9am-4pm the first day, and 9am-2pm the second day. Participants will have the opportunity to work with enthusiastic, qualified coaches in cheerleading, gymnastics, and dance.
The camp is open to both boys and girls and seeks to foster teamwork, leadership, and confidence. Please check out our team Facebook page or if you have any questions please feel free to send us anemail at:
Registration is available HERE. This cheer camp is found under the cheerleading camp listings. The camp costs $100 per participant.
See you there!