Why take psychology at TRU
Our first-year students participate in research studies from honours students, directed studies students and faculty, to better understand the field of psychology, and gain bonus marks. All this in small classes with dedicated, knowledgable, and caring professors with a variety of research interests.
Opportunities for students
Students attend and present at conferences. Most years the department organizes a trip for a group of keen students to attend a world-renowned conference (e.g. the Association for Psychological Science (APS) Convention). Past trip locations have included Boston, Chicago, San Francisco and Washington, DC.
Psychology lab open to all students
Free workshops to help students
Careers for graduates
Our students are successful in getting accepted into graduate schools and getting hired. Possibilities include: university professor, psychologist, counselling, law school, law enforcement, public service, human resources, mental health and disability services, addiction services, research and statistics, and education.
Profile
Psychology makes for natural transition to law school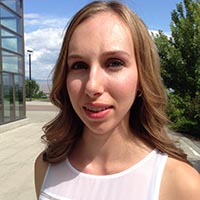 All it took was an introductory psychology course, and Natalie Paul was hooked.
"They give you such a broad overview of what psychology's actually about. You realize there's so many different paths you can take.
"TV shows sort of attracted me initially, but you uncover all the hidden truths about what psychology is actually about."
Like many TRU students, Natalie was impressed by the intimate class sizes and the chance to get know professors one on one. But she'll never forget the opportunity she had to attend the American Psychological Sciences conference in New York.
"The majority of students from universities across North America were post-graduate students and we were all undergraduate students. So you get that hands-on experience and you get to do things that I don't think you would otherwise do at a bigger university."
As Natalie continues her education in law school, she sees her psychology major as a definite asset.
"Psychology and the law in certain circumstances can actually intertwine. I've talked to lawyers in the community and they say the same thing — that they think psychology will play a greater role in the legal system in the future."