At TRU you will find small class sizes, personal attention and practical learning experiences in every program – all on a beautiful campus located in the Secwepemc territory of Kamloops BC. We are committed to creating an environment that encourages students to develop a network of supports and friendships.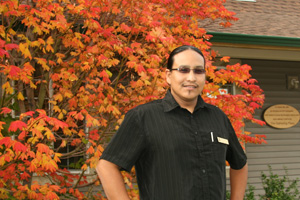 The Aboriginal Mentor Program is designed to assist new students (1st and 2nd year) with a successful transition into Thompson Rivers University (TRU).
Aboriginal Mentor Request Form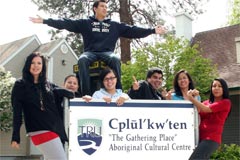 Where Fun, Food and Community are a way of life! The Gathering Place is a friendly and inviting aboriginal centre that provides information on all aspects of university life and doubles as space to socialize, study or just take a break from your day. It is truly a home away from home.
---
Traditional Secwepemc (Shuswap) Territory
The Kamloops and Williams Lake Campuses of Thompson Rivers University are situated on traditional Secwepemc (Shuswap) territory. There are approximately 7000 Secwepemc people in the territory which spans 180,000 sq km through the interior plateau of south central British Columbia. The mountain ranges, grasslands and river valleys surrounding the Fraser, and North and South Thompson rivers create the boundaries of the territory.
In addition to Secwepemc students, aboriginal students at TRU come from several B.C. Nations, including the Carrier, Okanagan, Nuxalk, and Nlaka'pamux. Students of Métis and Inuit ancestry also attend our university. We have one of the largest aboriginal student populations in B.C. post-secondary institutions with approximately 1500 students who represent 11% of the student population.